"Two Brothers Walking" is about spiritual people in spiritual country. It reveals the creative and regenerative force of Rainbow Serpent Dreaming that extends from central Australia to Far North Queensland.
Traditional owners give the filmmakers privileged access as they visit sacred country to record stories and practices for the first time. They are intent on preserving knowledge of the Dreaming for future generations.
The documentary is suitable for everyone interested in learning about Australian Aboriginal ways of life. It will be completed by the end of 2012. Here is a preview.
A Rainbow Serpent Dreaming Journey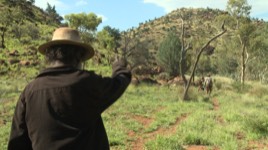 Some time ago Murray George said to me, "Come to APY (Anangu Pitjantjatjara Yankunytjatjara Lands) and I will take you to my mother's country. We want you to film it and put it on the internet so the whole world can see what our tjukurpa means for us. It's our whole life. We are free people and it's not for anyone to tell ws what to do. This tjukarpa is for everybody to know about, and they can support us so that it is there in the future, for all the children, for everybody."
The journey for Murray started long before that. He comes from Wanampi (Rainbow Serpent) and has been doing it all his life. John Hartley has been doing it all his life too. His country is Far North Queensland (FNQ) where Rainbow Serpent is know as Yirmbal by the Kuku Yananji or Kurriyala, the more general name for carpet snake. Murray and John's coming together was a natural and obvious one in the Aboriginal world. They are both of Rainbow Serpent or water snake dreaming and are born of the same spirit.
The journey has covered over 20,000 km. Murray and John have sat down with men and women all over Australia, carefully deliberating the endangered position of traditional culture in Australia, and taking action to prevent its extinction. Only a small part of this story is told in the documentary.
Some Pitjantjatjara and Kuku Yalanji Words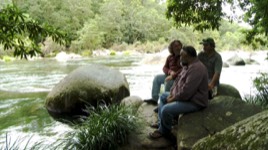 wanampi noun: water serpent, water-snake monster, rainbow serpent. Very dangerous creatures believed to live in and guard waterholes. (Pitjantjatjara/ Yankunytjatjara to English dictionary. IAD Press)
Rainbow Serpent goes by many names. His movement across country created mountains, valleys and waterholes. He is both benevolent and dangerous, providing food and water for people and animals and punishing law-breakers.
Some Ku Ku Yalanji words:
bubu (country, homeland)
ngujakura (Law, way-of-life, story)
bama ( the people, that person)
Ku Ku Yalanji (talk of that place)
Yirmbal (Rainbow Serpent)
kurriyala (carpet snake)
In Bamanga Ngujakura, Yirmbal travelled from a south to north. His travels are well documented and reflected within the shapes, forms, rockholes, waterways, and seasons of our bubu.
Recent Tweets #twobrotherswalk